Singing supports children's oral language development of language structures, vocabulary, and phonological awareness. Some of the titles on this list show families and characters who incorporate singing and music into their daily routines, while others foster the exploration of rhyme, alliteration, and syllable concepts.
Baby Dance
by Ann Taylor; illustrated by Marjorie van Heerden
New York: Harper Festival, 1999
ISBN: 9780694012060
In Baby Dance, a father calms his child by singing to and dancing with her, modeling a powerful and loving way that adults can verbally engage with children too young to talk. Baby Dance also shows that people use language for different reasons–in this case, as a simple and effective way to soothe an upset child.
Early literacy activites for Baby Dance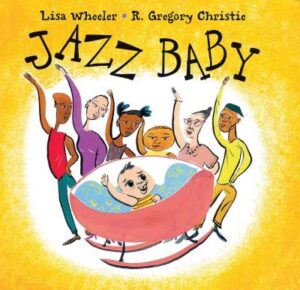 Jazz Baby
by Lisa Wheeler; illustrated by R. Gregory Christie
Orlando: Harcourt, 2007
ISBN: 9780152025229
A music-loving extended family gathers for a party, singing jazz and blues and dancing together, ending with the baby falling deep asleep. Jazz Baby shows a family clapping, snapping, and tapping out rhythms, and the rhyming scat and bebop nonsense syllables highlight their enjoyment of language.
Early literacy activites for Jazz Baby
Pete the Cat: I Love My White Shoes
by Eric Litwin; illustrated by James Dean
New York: Harper, 2010
ISBN: 9780061906220
Pete the Cat is walking down the street in his brand new white shoes, when he steps first in a pile of strawberries, then blueberries, then mud, and finally, water. Pete doesn't cry, though, he keeps walking along and singing about how much he loves his shoes. Pete the Cat encourages children's participation by seamlessly adding a simple song to the reading experience.
Early literacy activites for Pete the Cat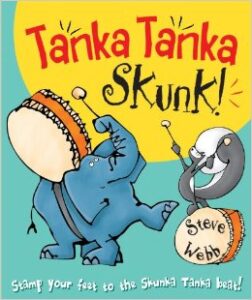 Tanka Tanka Skunk!
by Steve Webb
New York: Orchard Books, 2004
ISBN: 0439578442
Tanka, an elephant, and his friend, Skunk, combine rhythm and rhyme as they play the drums and play with words. Tanka Tanka Skunk! creates a fun reading experience that allows children to listen to and play with the sounds and syllables in words.
Early literacy activites for Tanka Tanka Skunk
The Neighborhood Mother Goose
by Nina Crews
New York: Greenwillow Books, 2004
ISBN: 0060515732
The Neighborhood Mother Goose is a collection of traditional Mother Goose rhymes illustrated with photographs of contemporary children acting out the rhymes and songs. This edition demonstrates that nursery rhymes continue to be relevant, and also serves as a model for how and when nursery rhymes can be recited throughout a child's day.