Table of Contents
Introduction
Whether we are trying to attract the Spanish speaking community to our library or create an inclusive space for the children that come from Spanish speaking households, we recognize that there is not enough content out there. There is still a huge gap between the Spanish speaking/Latinx community and the educational and library services that needs to be bridged. Educators and caregivers that work with Spanish speaking children have very limited resources and an evident lack of support which means there is a lack of equality or inclusiveness.
This is why we will provide a guide to develop Spanish language storytimes for teachers and librarians. The guide is being elaborated in a consistent and cohesive way so that it is easy for all to use regardless of your level of experience with storytime. Information is also provided in Spanish for native speaking librarians and educators.
Why Spanish (and not bilingual) Storytime?
Research has shown that children who are immersed in their native language, through conversations, stories, and songs, will have an easier time learning to read in their second language.
Spanish Storytime centers families that are native Spanish speakers and/or immigrants and fosters inclusiveness in the school or library.
When caregivers talk or read to children in the language they are most comfortable with or that is spoken at home, they are encouraging a stronger development of their child's pre-literacy skills than children who were only exposed to books in their caregiver's second language (Association for Childhood Education International, 2003).
It takes up to 7 minutes to switch our brains from one language to another. Even children learning Spanish as a second language benefit from an immersive language environment.
Spanish Storytime promotes literacy in the language of our heart (for those of us that are native Spanish speakers/ Latinx)
Caregivers want an immersive experience in their own language for their kids.
Applying the 5 practices & 6 skills
When applying the 5 practices and 6 skills from ECRR to the Spanish language, some differences stand out, like the additional letters in the Spanish alphabet or other unique concepts like the importance of learning vowel sounds and playing with syllables. Below are brief descriptions on some ways you can highlight these aspects in Spanish storytime.
Play with sounds (ie. rr, ll, ñ, ch).
Books like 'Llama, Llama Rojo Pijama' by Anna Dewdney work to introduce the 'll' sound. Tongue twisters or trabalenguas help with pronunciation and some are specific to rolling 'rr' practice.
Abc's.
Play with vowels and syllables. Practicing vowel sounds or vocales is key to Spanish language learning as is the rhythmic breakdown of the words or the syllables.
Feminine and masculine nouns.
Words in Spanish can represent a female and a male, just by changing the article and the ending (ie. la doctora and el doctor). And many words are specifically feminine while others are specifically masculine. Note: There are exceptions to this rule. Point out these differences during a read aloud or during a rhyme.
Tell stories.
Oral storytelling is a powerful way to share culture and history related to the Spanish language.
Use books that represent the Latinx community and culture.
Seek out books written by Latinx authors and books originally written in Spanish.
Talk about words.
When reading books, singing songs or chanting rhymes, you may find the words you read or use are different from words used by your audience. This is a great opportunity to connect with families and talk about the richness of the Spanish language. For example, many different words in Spanish have the same meaning. Marrano, cochino, puerco and cerdo are all correct ways to say pig. Highlight the regional differences in which words are used. This validates the Spanish spoken by parents and caregivers at home.
Myths VS Facts of Bilingual Language Development
Myths
Speaking two or more languages ​​to children "confuses" them, so it is best to only speak to them in one language.
It is best for families to speak only the language that children are taught at school, even if it is a language they cannot speak fluently.
Bilingual children lag behind in learning languages ​​compared to peers who only speak one language.
Bilingual children should not mix word-parts from different languages ​​when speaking.
Children become bilingual just by hearing other people around them speak a different language than their own.
Facts
All children have the ability to learn multiple languages. Even children with delayed development or with different abilities.
Families should communicate in the language in which they feel most comfortable so that children gain strong language models and can better verbally interact with other members of their community.
Being bilingual does NOT cause any delay in language learning and on the contrary, it has been shown to improve and increase the learning of new words, help to identify new sounds and increase the ability to solve problems.
"Translanguage" is what happens when people grammatically mix certain words (a form of "compound words"). This forms cultural adaptations and linguistic awareness.
Language learning is an active process that requires many opportunities for children to practice communication in different contexts with other individuals. Listening and responding is crucial for language development skills.
Spanish Storytime Reminders/ Tips
Download a PDF copy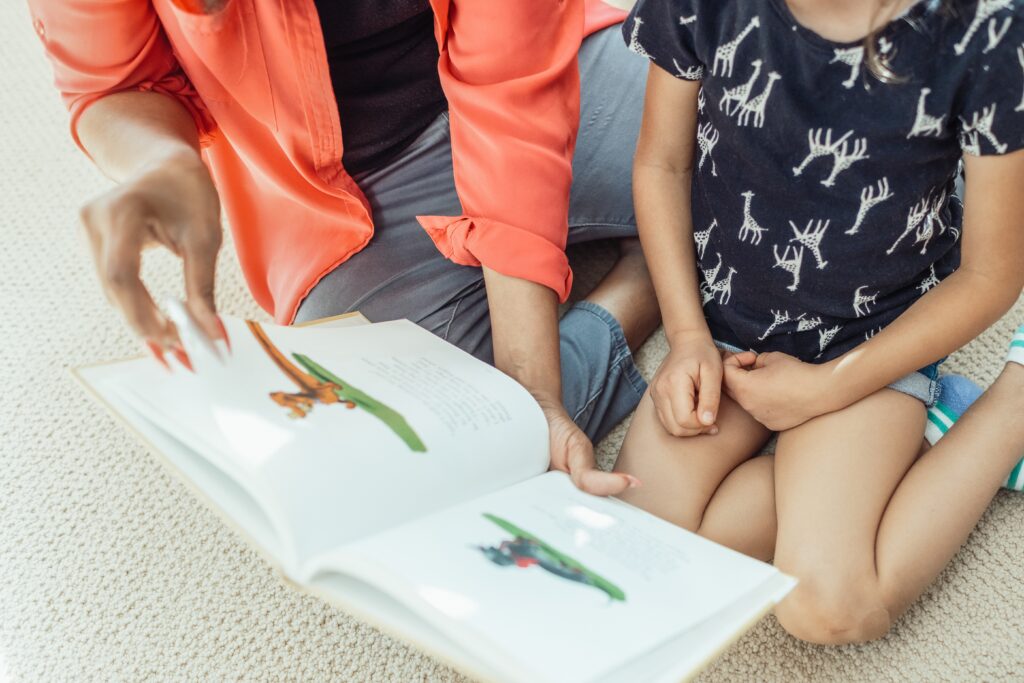 Find more tips for parents in Spanish at Colorín Colorado
Selecting Spanish Picture Books
Look for books that have cultural representation and support a positive cultural identity.
What is the book's country of origin? Check the text for regional vocabulary that may be unfamiliar. Some vocabulary from Spain may be unfamiliar to families from Mexico or South America.
Seek out books written by Latinx authors and authors whose native language is Spanish.
Look for books originally written in Spanish, often published in a Spanish speaking country.
If the book is a translation, check that it maintains an appealing rhyme and rhythm. Check the text for regional vocabulary that may be unfamiliar, or mistakes in the translation.
Where to Find Books in Spanish
Denver Public Library Best and Brightest: Each year Denver Public Library selects to top children's books published that year, including books published in Spanish.
Lorito Books: Book vendor specializing in authentic and translated children's books in Spanish.
Chulainn Publishing Corp: Local distributor of Spanish language books, original and translated.
The Best Children's Picture Books of the Year in Spanish [ 2022 edition] Since 2018, Bank Street College of Education has selected the best picture books published in Spanish that year.
Selecting Songs and Music
Authentic songs and music helps preserve the culture and traditions and gives children a better sense of inclusiveness and belonging.
Authentic songs usually have a larger vocabulary that translated songs.
There is nothing wrong with using translated songs, as long as they do not dominate the songs you share. A healthy mix of translated and authentic music is encouraged.
Incorporate flannel boards, finger plays, and games.
Make sure you have the lyrics available for your audience to read and follow along.
There are many Spanish speaking countries, each with their own versions of traditional songs and regional songs. Learn from the families in your storytime what songs they sing at home.
Children's Music in Spanish
Songs and Rhymes in Spanish