Advocacy Alerts
Right to Read Act
Promotes Students' Rights to Read and Expands School Library Access!
It will likely come as no surprise to librarians and educators that access to well-funded and professionally staffed libraries correlates with academic success and positive life outcomes for all children. Students who utilize school libraries are shown to have significantly higher literacy and graduation rates. This is especially true for students who may not have access to books and resources at home – students experiencing poverty, students of color, and students with learning differences.
School libraries have been gutted over the past few decades and few have retained certified school librarians, called Teacher Librarians here in Colorado. Currently Colorado requires school districts to have a single certified Teacher Librarian. Yes, you read that correctly, just one Teacher Librarian for an entire school district. I hear similar stories from around the country. I believe that the lack of professional librarians in schools has had the unfortunate unintended consequence of allowing a fast lane to removing materials from school libraries and classrooms. We need professional librarians in schools to be able to adequately respond to book challenge efforts.
The Right to Read Act (S. 5064 and H.R. 9056) would be a great step towards fighting for equal access to inclusive reading materials for all kids in schools and communities across the US. Further, it fights against censorship efforts and advocates for all kids' right to access diverse and responsive books and resources. It increases literacy development grants, invests in certified school librarians, and reaffirms student First Amendment Rights to access school library materials, with increased protection for schools, teachers and school librarians.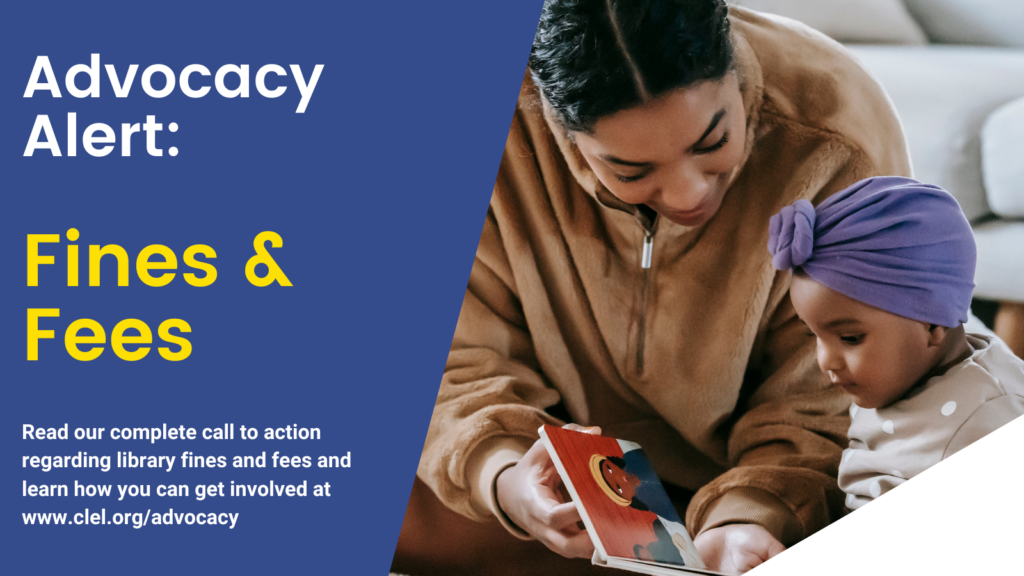 Colorado Libraries for Early Literacy is calling upon public libraries to eliminate late fines and critically examine other fee structures that prevent all families from accessing essential literacy opportunities. Learn more about the impact of late fines and fees and sign up to be a Fine Free Ambassador.
National Coalition Against Censorship Matching Fundraiser
Colorado Libraries for Early Literacy (CLEL) supports children's freedom to read. As part of CLEL's ongoing support of intellectual freedom, we are hosting a matching fundraising campaign to support the National Coalition Against Censorship (NCAC). For the past 50 years the NCAC has been a first-responder to protect freedom of expression. Their Kids Right to Read project is focused on supporting those facing book challenges and bans in schools and libraries.
We reached our goal of $500! This will be matched for a total donation on $1000 to the National Coalition Against Censorship. Thank you to all who contributed.
CLEL Supports Intellectual Freedom
Colorado Libraries for Early Literacy (CLEL) supports children's freedom to read. We believe that…
Books are tools for understanding complex issues.
Young people deserve to see themselves reflected in a library's books.
Adults should not make decisions for other people's children.
Individuals should be trusted to make their own decisions about what to read.
Limiting young people's access to books does not protect them from life's complex and challenging issues.
CLEL supports unrestricted access to diverse stories and we are concerned about the current rise in censorship challenges across the country that seek to remove books about race, racism, and the LGBTQ experience. The organizations below are invested in protecting every child's freedom to read and supporting libraries fight against censorship.
Additional Resources:
ALA Intellectual Freedom Resources
Unite Against Book Bans Action Toolkit
Colorado Association of Libraries: Intellectual Freedom Handbook
National Coalition Against Censorship
Banned Books Resources Hub (Penguin Random House)
High Plains Library District Programming Policy Challenges
Following changes to the High Plains Library District's programming policy, librarians at various branches within HPLD were told they had to rename, change, or otherwise cancel a number of planned programs which no longer aligned with the new policy. These changes included renaming the Read Woke Book Club, despite it being part of a national program, www.readwoke.com, and canceling other scheduled social justice programs. Librarians within HPLD notified the CAL Intellectual Freedom Committee.
One librarian fired in retaliation after speaking out, Brooky Parks, is now accepting donations as she continues to fight against her wrongful dismissal. You can read more about her advocacy efforts below, and support her through a donation at https://gofund.me/fae78d23.
Read More:
High Plains Library District denies former librarian's allegations of censorship, discrimination, Greely Tribune, Jan 28, 2022
Formal Response Regarding HPLD Programming Policy, Jan 28, 2022
Denver Librarian Alleges She was Fired . . . Denver Post, Feb 5, 2022
Colorado Legislative Action: SB22-004
CO SB 22-004, Evidence-based Training In Science Of Reading, extends the scope of the READ Act to include public libraries. The measures as originally written was concerning in it's scope and ambiguity. On February 10, members of the CLEL Steering Committee testified before the Colorado Senate Education Committee on SB22-004. After testimony and discussion the committee passed the bill unanimously and agreed to two key amendments related to libraries.* The bill now encourages, but does not require, that librarians receive training in the science of reading. Additionally, the committee agreed the bill's language should read that each director "may" rather than "shall" provide a plan to the state library about how the library will support literacy through the science of reading. It is anticipated that the library requirements of this bill may be revisited in later legislative sessions.
*Amendments passed in committee are not incorporated into the measure unless adopted by the full House or Senate.