By Jessica Fredrickson, Training and Advocacy Committee, CLEL Steering Committee
It seems strange, but 2021 is almost around the corner… which means it's time for new leadership on the CLEL Steering Committee! This is an exciting opportunity to connect with early literacy leaders statewide, empower fellow professionals and affect great change.
The members of the Steering Committee serve three year terms and are divided into specific subcommittees: Steering, Communications; Advocacy and Training; Grants, Fundraising and Membership; and Conference. All five committees need new leaders! New leaders start as co-chair, move up to chair in their second year, and spend their third year in an advisory role. (Please note that committee leadership is restricted to Colorado members). To learn more about each subcommittee's specific responsibilities, please review our bylaws.
There is no minimum or maximum experience requirement for the Steering Committee. We believe everyone brings valuable experiences to the table, and that everyone can be an early literacy leader from where they are! We also encourage candidates across the state to apply. All of our meetings will be 100% virtual for the foreseeable future, but even when meetings have been in person, virtual attendance is always an option.
Interested candidates should send their names, contact information, and a short biography (no longer than 150 words) to info@clel.org. Please also include the sub-committee that interests you most! All submissions must be received by Monday, November 23, 2020.
Want to know more? Please attend our virtual information session on Tuesday, November 17th to learn more about the CLEL Steering Committee and what it's like to serve on it! Join us at 3:00 to meet current Committee Members, learn what they love about serving on CLEL, and have the opportunity to ask questions. Please use this Google form to request the Zoom link.
Miss the live Steering Committee Q&A? Click on the image below to view the presentation slides: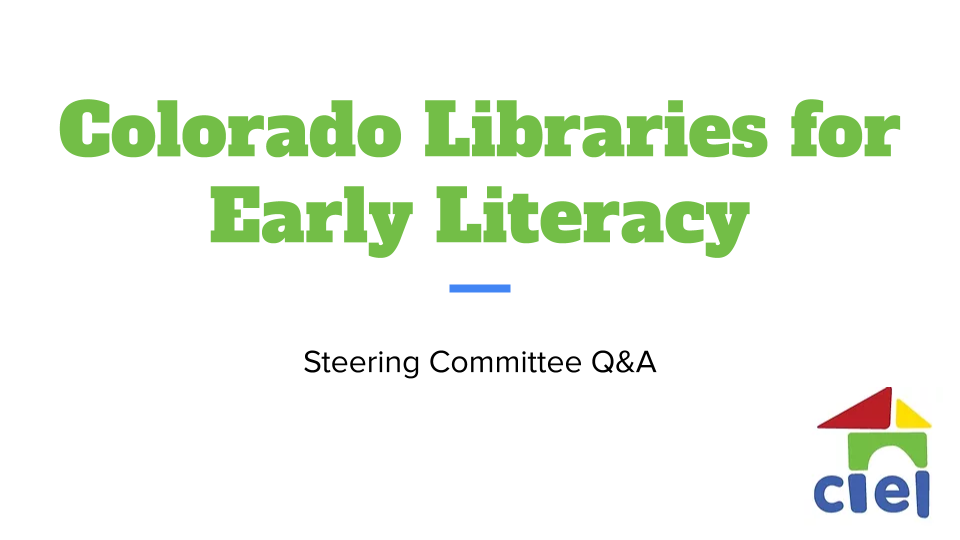 If you'd like to view the live chat with current Steering Committee members, watch the recording below:
If selected, new Steering Committee members will be expected to attend the first meeting of 2020, which will be on Friday, January 15, 2020, from 1-4pm via Zoom.