By Jamie H.
Library professionals who work with young kids know all about getting ready to read. Recognizing shapes is a step toward recognizing letters! Play with the sounds of language! Finger paint with shaving cream for fine motor skills! Have fun!
As a librarian with small kids at home, we dutifully did those things. We painted with water on the sidewalk, I made up songs with their names, I read them the same book every day indefinitely. It was fun.
And then they started school. And when being ready to read turned into learning to read, I was frankly surprised by, well, how hard it is, and how unprepared I was.
It starts slow
And I mean slow. If you are imagining classic early readers like Little Bear or The Cat in the Hat, those are years away. Elephant and Piggie? Not at first. No, a kindergartner taking their first steps toward independent reading needs something more like this:
It's recursive
I learned this by accident, and I'm glad I did. Because my boys are back-to-back, when I started bringing home very first books for my younger child, my older one remembered them and was excited to see his old friends. He wanted to read them again–but, of course, faster and more confidently.
They don't always want to
My kids love being read to, they love picture books and bookpacks and comic books and everything. Reading out loud to me? Not always their favorite. Why would it be? The stories aren't as interesting as the ones I read to them. But despite knowing that, I was still surprised by how it often was to "get them" to read.
Personal taste rules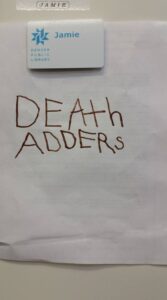 My kids hate Elephant and Piggie. Won't touch 'em with a ten-foot pole.
We know that every reader has their book and every book its reader, right? Kids learning to read are no different. They don't always want the thing that seems perfect for them. My younger child is especially contrarian and for several months would ready only the Bullfrog Books nonfiction series, preferably about terrifying animals. Komodo Dragons by Cari Meister was his especial favorite.
He wrote me this note so I would remember to get him the poisonous snake book he wanted, and I now keep it on my work locker as a reminder to always serve the reader.
My personal children have moved past the beginning reader stage and are off to the races now that they've discovered Dav Pilkey. But now when a dazed-looking parent comes to the desk looking for "kindergarten books" or "first grade books," I'll approach their predicament with better-informed empathy.