The Bell Awards Committee has selected the shortlist titles for the 2022 award. After much deliberation, five titles have been selected for each of the early literacy practices, Read, Write, Talk, Sing and Play. It was a difficult choice given the number of amazing books published and suggested this year. Thank you to everyone who took the time to suggest your favorite new picture books this year.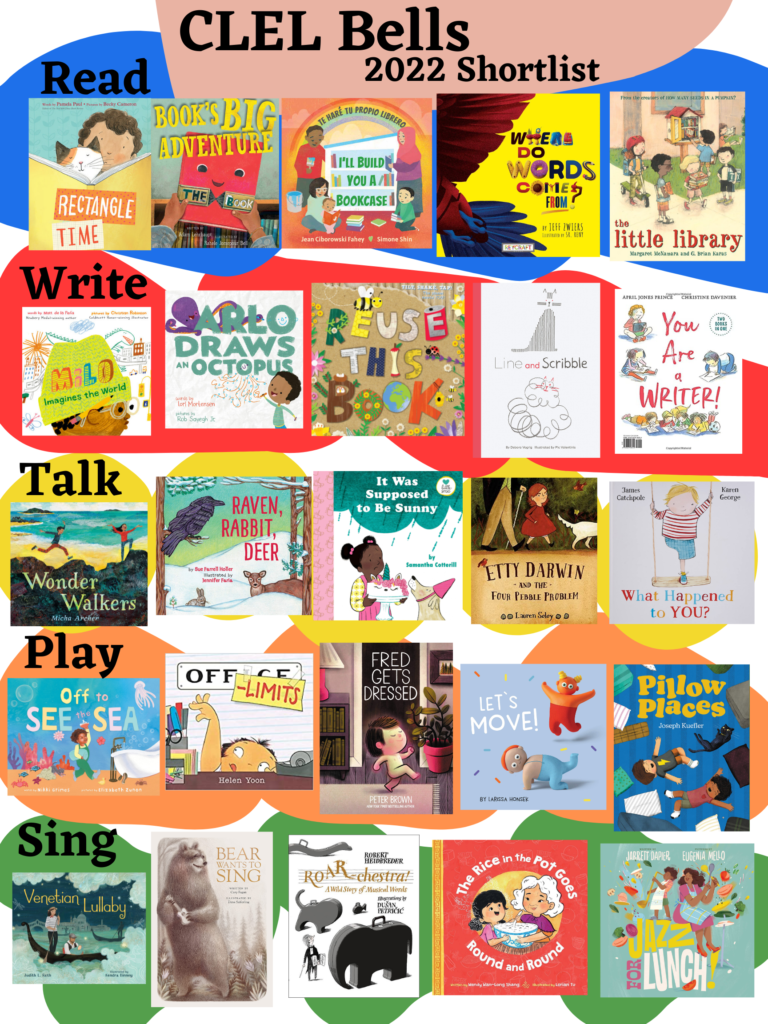 We had yet another year of strong titles that support and model the early literacy practices. All the titles on our shortlists and the numerous nominated titles are an excellent resource for storytimes, early education classrooms and caregiver recommendations. We hope you read them, add them to your library's collection, and share them at storytime.
The winners will be announced February 5th. While the selection committee is responsible for the final decision, we value your input. Please take the time to complete this survey to let us know your thoughts about this year's shortlist. Voting will close January 7, 2022.
READ
Rectangle Time by Pamela Paul, illustrated by Becky Cameron (Philomel Books, Feb. 2021)
Book's Big Adventure by Adam Lehrhaupt, illustrated by Rahele Jomepour Bell (Simon Schuster/Paula Wiseman Books, February 2021)
I'll Build You a Bookcase by Jean Ciborowski Fahey, illustrated by Simone Shin (Lee & Low Books, March 2021)
Where Do Words Come From? by Jeff Zwiers, illustrated by Sr. Reny (Reycraft Books, May 2021)
The Little Library by Margaret McNamara, illustrated by G. Brian Karas (Schwartz & Wade, March 2021)
TALK
Wonder Walkers by Micha Archer (Nancy Paulsen Books, March 2021)
Raven, Rabbit, Deer by Sue Farrell Holler, illustrated by Jennifer Faria Lipke (Pajama Press, November 2020)
It Was Supposed to Be Sunny by Samantha Cotterill (Dial Books, March 2021)
Etty Darwin and the Four Pebble Problem by Lauren Soloy (Tundra Books, May 2021)
What Happened to You? by James Catchpole, illustrated by Karen George (Faber & Faber, April 2021)
SING
Venetian Lullaby by Judith L. Roth, illustrated by Kendra Binney (Page Street Kids, January 2021)
Bear Wants to Sing by Cary Fagan, illustrated by Dena Seiferling (Tundra Books, September 2021)
ROAR-chestra by Robert Heidbreder, illustrated by Dušan Petričić (Kids Can Press, May 2021)
The Rice in the Pot Goes Round and Round by Wendy Wan-Long Shang, illustrated by Lorian Tu (Orchard Books, June 2021)
Jazz for Lunch by Jarrett Dapier, illustrated by Eugenia Mello (Atheneum/Caitlyn Dlouhy Books, September 2021)
WRITE
Milo Imagines the World by Matt de la Peña, illustrated by Christian Robinson (G.P. Putnam's Sons Books for Young Readers, February 2021)
Arlo Draws an Octopus by Lori Mortensen, illustrated by Rob Sayegh Jr. (Harry N. Abrams, May 2021)
Reuse This Book! by Houghton Mifflin Harcourt, illustrated by Emma Morris (Houghton Mifflin Harcourt Publishing Company)
Line and Scribble by Debora Vogrig, illustrated by Pia Valentinis, translated by Debbie Bibo (Chronicle Books, May 2021)​​
You Are a Writer/You Are a Reader by April Jones Prince, illustrated by Christine Davenier (Margaret Ferguson Books, August 2021)
PLAY
Off to See the Sea by Nikki Grimes, illustrated by Elizabeth Zunon (Sourcebooks Jabberwocky, January 2021)​
Off-Limits by Helen Yoon (Candlewick Press, October 2021)
Fred Gets Dressed by Peter Brown (Little, Brown Books for Young Readers, May 2021)
Let's Move! by Larissa Honsek (Familius, May 2021)
Pillow Places by Joseph Kuefler (Balzer + Bray, June 2021)