Q&A with Melanie Borski-Howard, 2024 CLEL Bell Awards Committee Chair and Youth Services Specialist at Boulder Public Library, and Andrea Cleland, Early Literacy Librarian at Loveland Public Library
In May 2023, Melanie Borski-Howard and Andrea Cleland, two stellar children's librarians in Colorado, had the opportunity to present their "Let the Children March" presentation at the Panama City World Forum on Early Care and Education. Their talk, usually presented with Amy Ortiz and Carolyn Valencia, discusses what they have done in their libraries to promote equity, specifically in children's programming.
Their time in Panama this year opened their eyes to a global reality of how other places and cultures value children and nurture their early childhood growth. In the interview below, they reveal what a positive experience they shared and how they plan to bring their takeaways to their work as children's librarians and advocates for children through their work with CLEL and the CLEL Bells committee.
What inspired you to apply for the World Forum on Early Care and Education?
Andrea: I am earning a second Master's degree in Early Childhood and Inclusive Education from Portland State University. My academic adviser John Nimmo, who I had never met in real life, has been on sabbatical for the past year, but he posted an opportunity to attend this conference I had never heard of. I am always looking for new and exciting conferences, but I also had the thought, why not try to present at it? I sent out the bat signal to my usual cohorts (Melanie, Amy, and Carolyn). The World Forum places all accepted submissions on a panel with other people from around the world who can speak on the same topic. I was shocked (and delighted!) to find out our session was included on a panel with none other than John Nimmo!
What was your reaction when you were accepted?
So many things were going through our minds. We were thrilled, of course, but we were also weighing the good news and the bad news.
Good news: Andrea and I have done this presentation many times, and our libraries will support us presenting in Panama.
Bad news: Amy Ortiz and Carolyn Valencia (who we co-present with and LOVE) can't go, so it will just be us.
Good news: We will present with three other people, one from Australia (but currently living in Portland, OR), one from Tanzania, one from Bangladesh!
Bad news: Being on a panel means we will have to take 40+ minutes of information and narrow it down to 15 minutes.
What was the conference experience like?
The sessions were inspiring and the information was vast. There was information about the importance of play, self-care, the environment, global leaders' perspectives, the impact of Covid and TONS more. There were performances by the people of Panama, delicious food, and we were literally non-stop from 8 a.m. to 5 p.m. with bonus events every evening. By the third day we were pretty beat, but when we presented, the adrenaline kicked in and it went great! We talked about what we do in our libraries to promote diversity. We talked about how to talk about race in storytimes. We discussed religious literacy in storytimes. We offered suggestions on how we can make our spaces more inclusive. We recalled our experiences with Drag Queen Story Hour, both positive ones and negative ones. And the crowd went wild! (Well, they asked a lot of questions and then offered positive feedback at the end of the session.)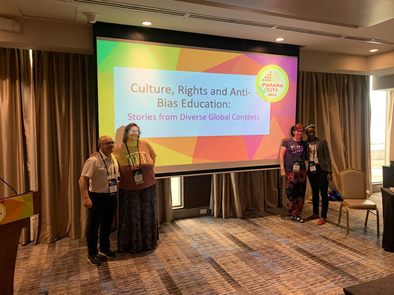 What was your biggest takeaway?
Melanie: Presenting at this conference really opened my eyes to the lack of quality child care our country has. I mean, I knew that, but all I kept thinking during the entire conference was, "Wow! There are third-world countries that take better care of their three-year-olds than America does." And yes, in our session we talked about children's rights and how to promote diversity in a library setting by hosting Drag Story Hours and how to talk about the importance of skin color due to our racist past, but what I took away from this conference was "DAMN, why is my country so far behind and what can I do about it?"
Andrea: Conferences can be redundant after decades in a single field, but this one took my breath away—sometimes literally. I cried twice at this conference when my heart reached out to the presenters telling their personal experiences with education in countries that weren't always receptive to their ideas. This conference included panelists from Malaysia, from Uganda, from Tanzania, and India. I heard stories about a mother's struggle with fighting for the education of the kids in her neighborhood during apartheid. I heard native Canadians speak about sharing Anishinaabe practices in child care facilities. I heard doctors speak about the effects of Covid-19 on the education of people around the world.This conference showed me stark contrasts in how lives are lived, but more importantly, it showed me connections and how to stand together for what's right and important.
How will you connect what you learned to your work on the CLEL Bells Selection Committee?
Melanie: Even though the CLEL Bell award is chosen for the top new picture books that represent the five early literacy practices–Play, Read, Write, Sing, and Talk–EDI is a very important aspect of selecting a CLEL Bell title. This year is especially exciting because we are mentoring 10 Spanish speaking committee members that will branch off and start a new Spanish CLEL Bell Award in 2025!! The CLEL Bell has grown so much in the 10 years it has been in existence and one positive way is in the amazing discussions the committee has about representation and the importance of windows, mirrors and sliding glass doors. We are committed to ensuring the books that are chosen for the CLEL Bell awards are diverse. My experience in Panama just drove that point home with more urgency and potency.
What will you implement in your daily work?
Melanie: So, I keep asking myself that question about what can I do to advance what my country does in regards to caring for children. As a Librarian, I'm always looking for opportunities to advocate for children's rights. And for now, how can I do that best? My storytime!! I make sure to talk about skin color and do diverse stories in EVERY storytime! And I continue to not only present, but to receive more training about EDI. Right now we are preparing for a Drag Story Hour Summit (coming in October to Boulder.) This conference made me realize how important this work is and that we will make a difference!

Andrea: I am already implementing things from this degree and this conference in my everyday practices, from the foods and utensils I include in the dramatic play area to the holiday (religious literacy) books I teach, not celebrate, in my storytimes. But what I loved most about this conference were the human connections. Even if I didn't speak to someone on a face-to-face basis, I heard their stories, and I listened. We can learn so much from each other's experiences and stories if we take the time to listen, and the world would be a much richer place for it.
Look for Andrea, Melanie, and Claudeth's session "Experiences at the World Forum on Early Care and Education in Panama City, Panama" at CLELCON in September 2023!