by Julia Makowski, Buena Vista Public Library
Guest Blogger
I'm new. New to my job. New to libraries. And like everyone else I know, new to living in a world with a global pandemic raging.
I started in my new role as the Buena Vista Library Youth Services Coordinator at the end of July. The library I was walking into had recently re-opened its doors, allowing patrons to come inside to browse, use a few computers and the copiers, but had stopped all in-person programming.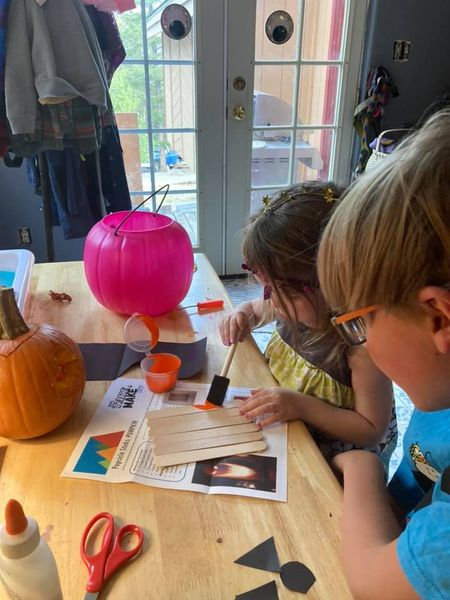 Before COVID, the library had a robust story-time, art and music classes for kids, a chess club, a Reading to Rover program, and a special program called "Wiggles and Giggles." The library has stopped all of these programs. The first major task that my director wanted me to focus on would be getting some form of programming up and going again.
In a lot of ways, it was a blessing being new. I didn't have any real library experience and certainly didn't know how it was supposed to be. Everyone was saying, "Well, it used to be like this…" but they weren't saying it because I was trying to change things; it was because the world had changed, and we were all doing it a new way.
In my first few weeks, I discovered one of the greatest gifts of the new job. I was walking into an incredible community of library people. Rich. Open. Eager. Passionate. These were the people I was working with at my library and the community of library people that had come together, as a state and beyond, to help each other find a new way. I am not sure the scale of openness and collaboration that existed before or how much it had been amplified by the need to come together due to the health crisis everyone was finding themselves in. I can only imagine the foundation was there. It reflects the values I believed to be a part of a library, serving, and building community. It was clear that in response to an increased need, people were there to help and take care of each other.
I found allies to talk to, who openly shared resources, told me about their struggles, and offered important advice based on what they had already learned. I found myself in an incredibly supportive work environment where people were excited to try new things and eager to give it a go. We had patrons that were willing for us to try things and understanding that it couldn't be the way it had been.
In September, we launched our Take & Make series. We designed kits for three different age groups, and each week families would come in, pick up their kit, and take it home. There, they would craft, create, and make something.
After the first month of the program, I solicited feedback from families. I was pleased to hear that people liked the kits. The kits were meeting their needs and providing an opportunity to do something creative. Besides the generally positive reviews, a word stood out in the feedback. Resoundingly people wrote "together" when asked what they had gotten from the kits. They wrote about their appreciation for time together, time to create together, quality time, and for something to look forward to doing together.
Had we set out with this as a goal? We were not giving people time, but somehow, we had created something that brought our families together. They were choosing to use our craft kits as a way to create quality time together.
I am in this job because of connections. I believe in connections with people. I believe in the connections that reading creates. I believe in the connections we can make with our community. And, I know we need this more than ever, right now.
We are now in our third month of Take & Make programming. We've tapped into local artists who help design the kits, provide instructional videos, and even offer live zoom classes. These, too, have become another opportunity for us to come together and see our peers and neighbors' creativity. The kits are not about the final outcome, the craft, or the project. They are about the shared experience.
When our world is not allowing us to be in person and together at the library, I am incredibly proud to know that we are creating something that brings families together.
Please note that as a guest post, the views expressed here do not represent the official position or opinion of the Colorado Libraries for Early Literacy organization or the individual committee members.