Talking is a foundational early literacy practice, providing ongoing experience with oral language, and allowing children to develop the background knowledge about the world that leads to greater comprehension of the texts they encounter. This list contains books that encourage conversations, foster language play, and model creative adult-child dialog.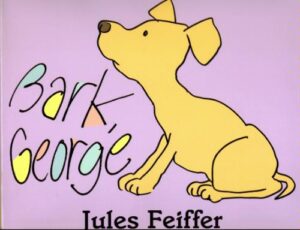 Bark, George
by Jules Feiffer
New York: Harper Collins, 1999
ISBN: 9780062051868
George, a puppy, can't seem to bark. Instead he makes all sorts of other animal sounds until his mother takes him to the vet to find out why. The animal noises in Bark, George are an effective way to explore language sounds with young children, and the silliness of this story and its simple structure create a highly enjoyable reading experience.
Early literacy activity ideas for Bark, George
Do You Know Which Ones Will Grow?
by Susan Shea; illustrated by Tom Slaughter
Maplewood, NJ: Blue Apple Books, 2011
ISBN: 9781609050627
This concept book invites children to make comparisons and determine whether objects are living or nonliving. The rhyming words and fold-out pages foster engagement with the text, while the question format encourages conversations between reader and children. By promoting critical thinking about categories and relationships, this book helps children build the general knowledge about the world that will help them understand what they read.
Early literacy activity ideas for Do You Know Which Ones Will Grow?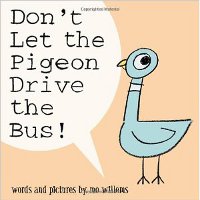 Don't Let the Pigeon Drive the Bus!
by Mo Willems
New York: Hyperion Books for Children, 2003
ISBN: 9780786819881
The bus driver must leave and asks the reader to watch things while he is gone. He has one request: Don't let the Pigeon drive the bus! The Pigeon then tries to convince the reader to let him do just that. Speech bubbles and hand-drawn words of different sizes lets children see that print carries meaning along with the illustrations.
Early literacy activity ideas for Don't Let the Pigeon Drive the Bus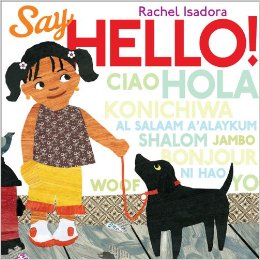 Say Hello!
by Rachel Isadora
New York: G.P. Putnam's Sons, 2010
ISBN: 9780399252303
A family walks through their neighborhood, sharing greetings with their friends in many different languages. Say Hello shares the type of day-to-day oral language exposure that helps lay the foundation for children's written language skills, while celebrating multiple language environments.
Early literacy activity ideas for Say Hello!
Tell Me the Day Backwards
by Albert Lamp; illustrated by David McPhail
Somerville, MA: Candlewick Press, 2011
ISBN: 9780763650551
Mamma Bear asks Timmy to share a bedtime story of their day together, starting with brushing his teeth and going backwards through the day. Tell Me the Day Backwards demonstrates how asking children open-ended questions can prompt the use of words and language. Also, recounting what happens is one way to practice putting events in sequence, which is a comprehension skill.
Early literacy activity ideas for Tell Me the Day Backwards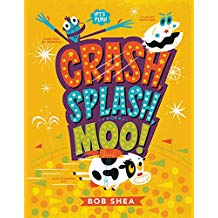 Crash, Splash, or Moo!
by Bob Shea
Little, Brown Books for Young Readers
Mr. McMonkey is your host, and your contestants are America's favorite stunt clam, Action Clam…and a cow! These unlikely daredevils face off in a zany sequence of challenges–and readers get to guess the outcome of all the wacky stunts. The winner gets a Golden Banana!