Writing skills develop in tandem with reading skills and help children build on the key insight that print has meaning. These titles present a variety of ways young children experiment with intentional mark-making: drawing pictures, interpreting their own marks, and using different types of print, such as lists and notes.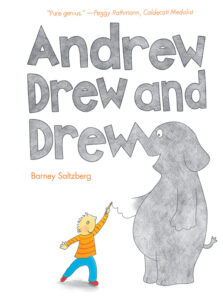 Andrew Drew and Drew
by Barney Saltzberg
New York: Abrams Appleseed, 2012
ISBN: 9781419703775
Andrew loves to draw, and readers can lift the flaps and follow Andrew's lines throughout the book to discover all of his pictures. Andrew Drew and Drew celebrates how children's ability to tell stories begins with scribbling, doodling, and drawing.
Early literacy activities for Andrew Drew and Drew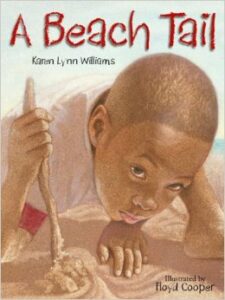 A Beach Tail
by Karen Lynn Williams; illustrated by Floyd Cooper
Homesdale, PA: Boyds Mill Press, 2010
ISBN: 9781590787120
At the beach, Greg draws a lion in the sand with a stick. When his dad tells him not to leave his picture, Greg adds a very long tail that allows him to take a walk all the way down the shore. After he realizes how far away he is, the tail he drew guides him perfectly all the way back to his father. A Beach Tail gently introduces the idea that writing and drawing are purposeful activities.
Early literacy activities for A Beach Tail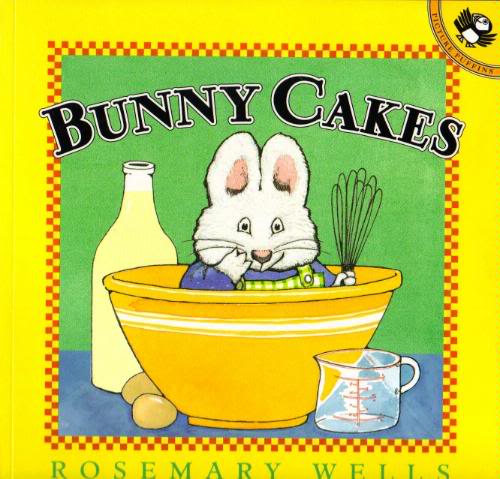 Bunny Cakes
by Rosemary Wells
New York: Viking, 1997
ISBN: 9780670886866
Max and Ruby are baking cakes for Grandma's birthday and he needs ?"Red-Hot Marshmallow Squirters" for decoration. When Ruby sends him to the store with a list of ingredients, Max tries to scribble what he wants on the bottom. The grocer just can't figure out what Max means until he draws a picture of it instead. Bunny Cakes shares Max's gradual realization that some marks will convey meaning better than others.
Early literacy activities for Bunny Cakes
A Splendid Friend, Indeed
by Suzanne Bloom
Honesdale, PA: Boyd's Mill Press, 2005
ISBN: 9781590782866
Big, quiet Bear loves to read and write and think, while energetic Goose loves talking and being with Bear. Bear gets a little frustrated with all of Goose's interruptions, but when Goose delivers an affectionate written note, Bear realizes that for all their differences, they have their friendship in common, and that writing is an important way to communicate with our friends and families.
Early literacy activities for A Splendid Friend, Indeed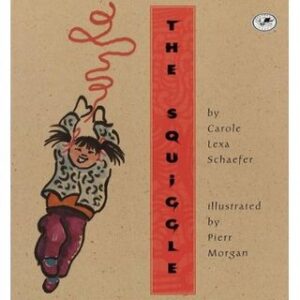 The Squiggle
by Carole Lexa Schaefer; illustrated by Pierr Morgan
New York: Crown Publishers, 1996
ISBN: 0517700476
As her class walks to the park, a girl spots a discarded bit of red cord on the ground and she immediately begins to imagine what shapes she could make with it. The cord becomes a dragon, a cloud, and even fireworks as she plays. The Squiggle is an accessible exploration of representational thinking, a key concept in print literacy.