By Amanda Romero, Librarian, New Americans Project
Ten percent of Coloradans, and 16% of Denver residents, are foreign-born (American Community Survey). Over one-third (36%) of Denver's children are immigrants or have at least one immigrant parent (Kids Count Data Center). And 130,000 people in the Denver metro area, a full 37% of Denver's immigrants, are undocumented (Pew Research Center).
With immigration constantly in the news and policy changes affecting so many in our communities, parents, educators, and librarians may be looking for resources to talk with young children about immigration. Below are some titles that deal compassionately with the issues of family separation, detention and deportation, and the experiences of unaccompanied minors.
Mama's Nightingale: A story of immigration and separation by Edwidge Danticat (2015): Sensitively told and beautifully illustrated, this book describes one young girl's experience as her mother, an undocumented Haitian immigrant, is taken into detention. As her father writes letters to judges, representatives, and the mayor, Saya also channels her grief into action, writing her own letter to the newspaper. Finally, their advocacy pays off, and her mother is released and allowed to stay with the family while she waits for her "papers." Acclaimed author Edwidge Danticat is herself a Haitian immigrant who came to the U.S. at age 12; this would be an excellent "Own Voices" selection.
Todos Vamos a Estar Bien / We're Going to Be Alright by Maria Uribe (2017): This book by Denver author and educator Maria Uribe addresses the plight of the tens of thousands of children placed in foster care in the U.S. when their parents are detained or deported. Simple, bilingual text and friendly illustrations tell the story of Maria, who lives with her mother and grandmother after her father is deported. They take good care of her and give her a sense of security and love, even though her mom has to work two jobs. When they are also taken into deportation proceedings, Maria is sent to live with strangers. But her classmates and teachers show her kindness and caring. Based on the real-life story of a 4-year-old girl Uribe met during a school visit, this story will resonate with children who have similar fears and experiences and help them feel less alone.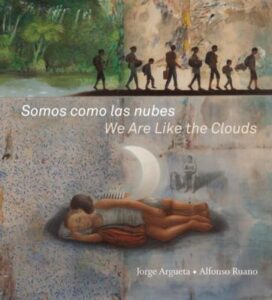 Somos Como las Nubes / We Are Like the Clouds by Jorge Argueta (2016): In short, vivid poems, award-winning Salvadoran poet Jorge Argueta takes the reader on a journey from Central America to the United States, describing the "painted people" who threaten the young protagonist and cause him and his family to flee. Superb illustrations by artist Alfonso Ruano work with the text to create an atmosphere of surreal beauty, giving the story an epic and universal quality. This book would work well as a starting point for helping young people tell their own immigration stories through poetry and art.
These are just a few of the books for younger children that can help both immigrant and non-immigrant families understand the experiences of others. A good selection tool for educators and librarians is The Stories We Share: A Guide to Pre-K–12 Books on the Experience of Immigrant Children and Teens in the United States, by Ladislava N. Khailova. This text includes descriptions of books about immigrants grouped by region of origin, along with discussion questions and quotes for interpretation.
Sharing immigrant stories can be difficult and painful, especially for children experiencing trauma and loss. But it is also a joyful opportunity to celebrate our diverse communities and our own personal histories. Sharing books like those above can help foster intercultural understanding and emotional intelligence in readers of all ages, and it will show immigrant families that they are seen and that their stories are appreciated.