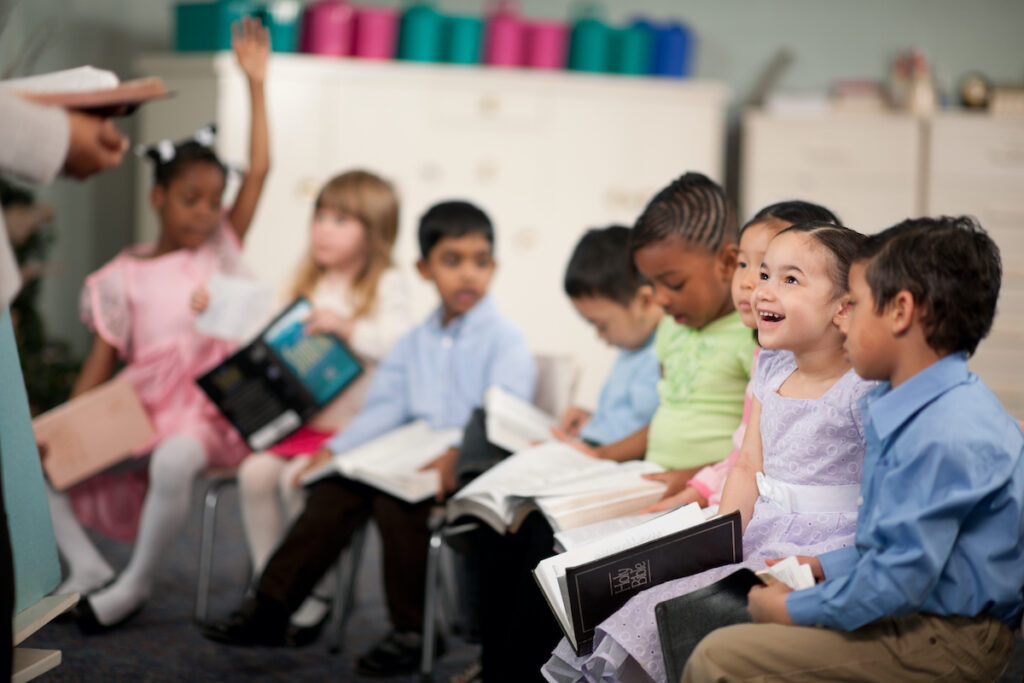 Last summer, I was dreaming of taking a vacation around the world. Since I unfortunately couldn't do that, I decided we should travel the world for a month of our All Ages Storytime.
My hope was to introduce the kids to new cultures, create an excitement about new geography, start to fuel a passion for travel, and help caregivers to expand the worldview of our young patrons in our small town of Lyons. I decided to mix things up and do countries and continents interchangeably, so we could talk about the difference between the two, and take advantage of a great opportunity to introduce map skills to the kids.
First stop – England! We started with England, mostly due to the fact that there were plenty of stories based there and I had been there myself, so I could share my own photos and souvenirs. We learned "English" words that are used in the UK that are different than what we use in America. I tried to mix up stories from British authors and stories about England. Next week –India! I enlisted my coworker and her daughter-in-law, who is from India. Her daughter-in-law graciously agreed to wear a traditional sari and help lead the group in stories and songs about India. On to Africa! My mom was in Africa volunteering at the time, so she was able to send a video of the kids she was helping dancing and singing songs. It was amazing showing the kids in Lyons that even though we were across the world and looked different from
each other, we all still sang and danced to have fun and learn. Final stop of the month – Australia! That introduced a great opportunity to learn about a variety of fun Australian animals. We were able to do a memorable great big giant version of Itsy Bitsy Spider based on the Huntsman spider. I'm not sure all the caregivers have recovered after seeing pictures of that!
For crafts, the opening week we made passports to launch us on our journey. Then the following weeks we made crafts related to the country or continent. Luckily there are a lot of great resources out there for international storytime themes so I didn't have to start from scratch. I had the best luck if I would look for storytimes/books/crafts based on a certain country or continent. We also did displays highlighting fiction and non-fiction books from around the world, including one of my absolute favorites, the Children Just Like Me series of books by DK.
Some websites I really appreciated in planning were:
http://www.thebarefootmommy.com/category/global-kids/
https://www.nypl.org/blog/2014/07/22/around-world-childrens-books
https://www.literacyworldwide.org/blog/literacy-daily/2018/04/02/international-childrens-books
https://natlib.govt.nz/blog/posts/international-children-s-book-awards
Don't forget International Children's Book is April 2nd! That's a great opportunity to highlight international books in your collection. I am already starting to imagine where we are going to go this summer!
By McCourt Thomas, Head of Youth Services, Lyons Regional Library